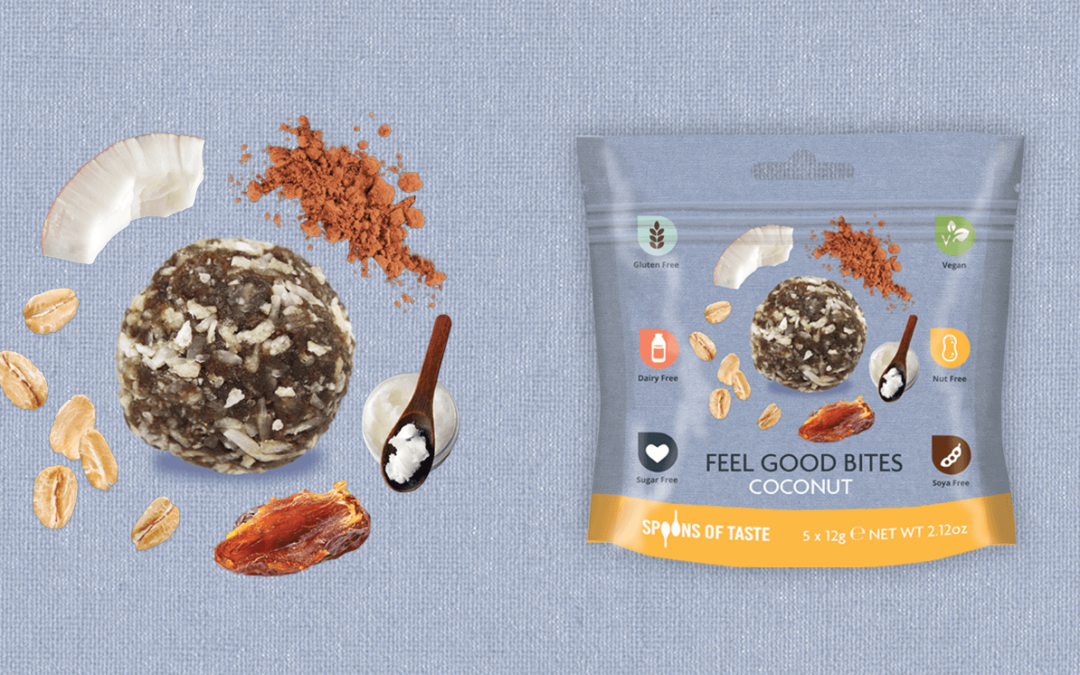 Feel Good Bites – the little power snacks from Spoons of Taste!
Spoons of Taste is the name of our new partners, and they deliver really strong, life-enriching and functional food with one mission: Great taste! No sugar, no soy, no nuts, no gluten and no milk! Allergy sufferers can breathe a sigh of relief and connoisseurs can rejoice. This is where pleasure and health come together!
An idea born from passion and personal experience

The founder of Spoons of Taste, Agata Andryszczak, started looking for healthy food because she could not tolerate dairy products and gluten was also a problem for her. But what would have meant for her and others a life restriction and renunciation of pleasure made her a life task. She embarked on a world tour of natural flavours and pleasures with the question: What is it that goes from Dubai to Southeast Asia to Japan between the tongue and the palate without industrial additives, without soya, milk, gluten and nuts, but instead only with the natural offerings of nature?
She called the ideas she brought back from this trip Feel Good Bites, small aromatic sensations with no additives at all! Now also available here with us!
Feel Good Bites "Matcha Tea" – Japan sends its regards

These delicious balls were inspired by the Matcha tea tradition in Japan. Matcha is a finely tart and very aromatic green tea plant, which is not only used in the leaf but also as a powder for flavouring. It is currently cultivated as a traditional plant in Japan and is also organically cultivated here. The combination with coconut results in an unusual, but very interesting and harmonious snack, which is suitable for the small hunger in between, because it offers quite nutritious value and also makes you full. Naturally without all allergens.
Feel Good Bites "Chocolate" – Caribbean meets Asia

Oriental, Asian and Caribbean flavours come together here. Pure aromatic cocoa without milk content meets dates and gives the beads a slight toughness for the lust for bite with exotic fruity sweetness. A sprinkling of goji berries provides a valuable extra portion of vitamin C and the echo of Vietnamese and Korean taste landscapes, in short: a very natural, healthy and surprising world nibble.
Feel Good Bites "Coconut" – snacking and food

Full nutritional value meets the highest level of enjoyment and combines to form a healthy and delicious filling. Coconut shavings harmonise wonderfully with gluten-free oats. Delicious coconut milk serves as a fresh additive and allergen-free binding agent. And fine dates steer the accent fully towards summer, warmth, freshness and the small ravenous appetite on discovery trails. This aromatic gimmick tastes so good that you can hardly control your fingers when the bag is open. But with so much naturalness, nibbling is probably allowed rather than forbidden.